Due to the current operating environment resulting from COVID-19, social distancing and remote manufacturing are here to stay. CAMWorks provides the right set of tools for CAD/CAM Automation to lay the foundation for remote manufacturing. MINTVIZOR helps manufacturers build on this foundation through machine monitoring and manufacturing analytics.
CAD/CAM Automation lays the foundation for remote manufacturing
Did you get a chance to attend the webinar on Using CAD/CAM Automation to Enable Remote Manufacturing ? The panelists talked about the current situation wherein COVID-19 has disrupted organizations throughout the world and the webinar demonstrated how CAMWorks helps its users stay competitive and productive. Whether teams are working from the same location or working remotely, CAMWorks provides the collaboration and automation tools to keep production running at full capacity including:
Integrated feature-based CAD/CAM to efficiently program CNC machined parts remotely by having the virtual machines, tool cribs and post processors in place for remote programming
True G-code machine simulation which helps us prove out parts remotely thus reducing setup time and ensure perfect machining each time
Probing on the machine which helps verify the quality of CNC programs and machined parts
The ShopFloor module to provide 3D solid models and digital documentation on the shop floor
The expert presenters in the webinar discussed the remote manufacturing process and the underlying technology required to be successful when manufacturing remotely. The underlying technology included not only CAD/CAM automation, machine simulation, probing, and digital documentation… but also performance tracking on the shop-floor through automated data collection and performance analytics.
CAMWorks and CAMWorks Virtual Machine helps programmers to efficiently create and prove-out CNC programs remotely, including programs with on the machine probing… and CAMWorks ShopFloor can be used to prepare and share the digital documentation with the machine operator on the shop floor.
Build on the foundation using machine monitoring and manufacturing analytics
This is where the virtual phase ends. The next step is to cut the part and get into physical production. The CNC program and G-CODE generated by CAMWorks is used to machine the part. In normal times when you have regular production, everyone would be present on the factory floor operating machines, monitoring production, performing maintenance activities, replacing tools, etc. In the current situation, the same factory is supposed to be run with fewer people so that social distancing norms can be adhered too. One operator may handle a greater number of machines per shift. A supervisor may monitor the progress on double the number of machines he or she normally does. A maintenance engineer may visit only as per requirements or as per a predefined schedule. In such cases, it becomes very important to try and achieve the same level of transparency, communication, and communication as in normal times. Any preemptive, predictive or prescriptive notifications provided to the people on the factory floor will go a long way in preventing fire-fighting situations and plan their activities and schedules. This will help operate the plant with the right sized workforce as per COVID restrictions. In such a remote manufacturing scenario, it will be difficult to track and run an effective production shop or factory without the help of a real-time machine monitoring and manufacturing analytics solution like MINTVIZOR.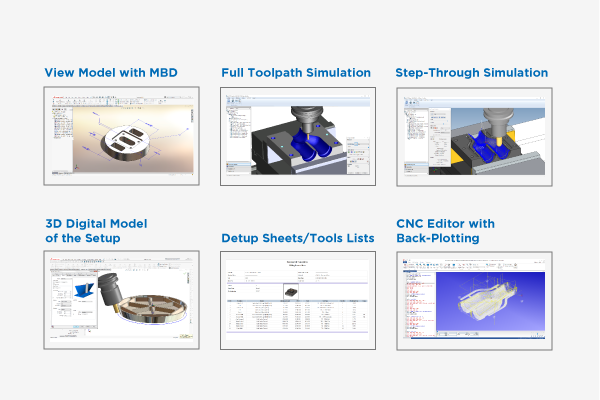 MINTVIZOR functionalities assist individuals on the factory floor in data driven decision making
MINTVIZOR functionalities assist individuals on the factory floor in data driven decision making
MINTVIZOR Dashboards allow factory managers to get remote visibility into current operating status of all machines in the factory. Supervisors can apply cell or group level filter to monitor only the machines under their purview. Using the Reports feature, they can also perform historical analysis for any machine to track trends for parameters and metrics like Utilization, OEE, Total Part Counts, Bad Part Counts, etc. Daily Standup meetings can be held virtually using virtual meeting channels and shared MINTVIZOR dashboards and reports. Operators working on the factory floor can virtually request the assistance they need to achieve optimum factory performance.
The Alerts functionality in MINTVIZOR helps alert the right individuals regarding any critical event on the factory floor which is useful in remote monitoring environments where only a few staff personnel are managing the factory operations at any point in time and may now always be in front of the operating machine. The Machine Alarms report helps maintenance engineers preempt potential machine problems by taking preventive actions and scheduling maintenance activities. It helps plan the attendance of maintenance personnel in the factory and adhere to social distancing and factory attendance norms laid down by regulatory authorities.
Similarly, the Tickets function helps machine operators and other individuals raise issues with Email/SMS notifications sent to the right teams (even external vendors) no matter where they are so that immediate actions can be initiated. Open items can be tracked remotely, assigned to responsible persons, and followed up to closure as per SLAs. A typical example would be raising a ticket for tools replenishment with a vendor which can be done by the tooling department by monitoring tool analytics as mentioned earlier. The external vendor will get an email notification and can schedule the delivery (and installation) of tools by planning visits and activities along with the appropriate factory personnel.
Communication within teams becomes streamlined and effective collaboration driven by the system becomes the accepted way of working. Physical logbooks are replaced by operator panels on tablets/phones so that they can classify machine downtimes, raise tickets, report parts produced and add comments to a digital logbook which not only helps operators communicate virtually but also helps maintain records related to machine observations, notes and other details for future reference.
MINTVIZOR helps the factory or shop build its own knowledge base by allowing experts to create digital work instructions which can be referred to by new recruits before they disturb the experts. One fantastic feature about this functionality is the trigger mechanism which enables the appropriate work instruction page to be opened automatically on the operator panel on the occurrence of a particular event. A simple example could be opening the "Refill Coolant" page when the coolant level drops below a particular threshold.
Do not be restricted to CAD/CAM Automation – Go Beyond….
Thus, we see that enabling CAD/CAM automation is not enough to enable remote manufacturing on the factory floor. It is important to follow it up with real-time machine monitoring and manufacturing analytics tools like MINTVIZOR so that you can realize the benefits of the automation through continuous monitoring and improvements. A remote manufacturing setup cannot be successful without remote monitoring, communication and collaboration tools and it is very easy to get started with minimum investments. Write to us at mintvizor.marketing@hcl.com and we would be glad to assist.